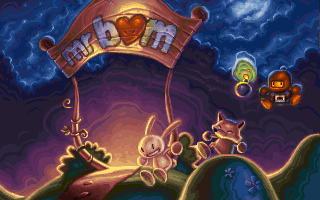 download Mr.Boom v3.0 !!!
it's an ipx network compatible bomberman clone (up to 8 players, featuring pushing bomb, remote control, rabbit riding... enough bullshit, better check those screenshots)


Welcome the Mr.Boom homepage, you can find here the updated version of its documentation.
---
| | | |
| --- | --- | --- |
| | Captures of Mr.Boom | |


ipx compatible bomberman clone



up to 8 players at the same time !!!



featuring nasty and devils monsters...



welcome to the jungle...



love at first sight..
(dos only or W95/98...)



draw game
(never saw this while i'm playing)

back to the bullshit?
---
| | | |
| --- | --- | --- |
| | Favorite links | |

the dos games archive
an archive of MS-DOS games
gnutella or gnutella france
the easiest way to get mp3s and videos
adbusters.org
culture jammers ??
dentifrice homepage
dentifrice homepage
the third dimension
a.k.a dines homepage.
The SIF manifesto
The SIF manifesto
xmen powah
home of the alternative demoscene (RIP)
exocet homepage
an updated version of the jff homepage :)
apocalypse999 site
grabule on drugs
gratos freeware
great clone games collection
Classic Game Mania
very nice emulation site...
urion homepage
homepage of the game called "Uriblast"
f a c t o r y : c i t y
Neuronik Empire
The Big and Kli's Page
Page specialisée dans les utils MP3, IRC, les images manga,les skin Winamp,les Mr.Booms et le Reggae. (uniquement)
mp3: le format
Tout sur le mp3...

---




| | | |
| --- | --- | --- |
| | Favorite files | |







esheep.exe is a really cute sheep simulator for windows 95. (i think it's also called "shampoo")
joyemu is a keyboard emulator for joysticks (play Mr.Boom with joypads !)
keyemu can be used to connect a second keyboard on the parallel port (download: dos version, windows version)
sneskey is a hardware/software combination that enable use of console control pads on pc... (pick the dos version and the windows 9x version)
directpad pro is another sneskey... (download here)
mod pluggin a netscape/ie pluggin to play amiga soundtracks

Even Microsoft can't save the world from MrBoomification